Prom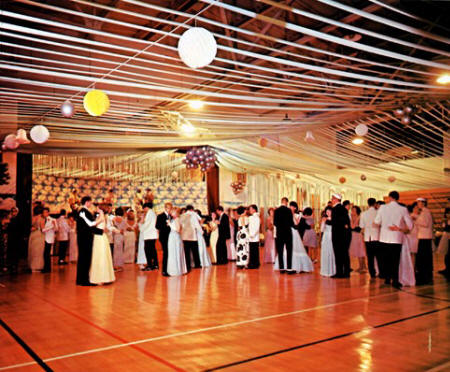 All About Proms This Page Links
About Proms
History of the Prom
Prom Dresses
The Hair Styles

Tuxedo and Ties Page Links
All About Tuxedos and Ties Page Links
History of the Tuxedo
How to Tie a Perfect Bow Tie
How to Tie a Half Windsor Knot
How to Tie a Windsor Knot
How to Pin on a Boutonniere
Prom has been around since 1811?
The term "prom" is derived from the late nineteenth century "promenade ball?"
Proms are inspired by debutante balls, which are events that formally debut teenagers from prestigious families?
In the United Kingdom, "prom" is actually an entire season of classical concerts, held between July and September since 1811?
In the early 1900s, prom was just a simple tea dance for high school seniors?
Proms thrived in the 1950s due to a post-war economy boom?
If you don't get your fill of prom in high school, some universities have proms?
The very first reference to prom is from the journal of an Amherst College student who gave a lengthy description about his experience?
That girls never purchased new clothing for proms—dress codes found on invitations simply called for "your Sunday best?"
The History of the Prom

Proms were first mentioned in the high school yearbooks of the 1930s and 1940s, but historians believe they may have existed as early as the late 1800s.
Proms first began in the elite colleges of the Northeast, taking their cue from the debutante balls of the rich and well bred. Middle class parents admired the poise and composure of debutantes and their escorts and began to institute formal dances as a means of instilling social skills and etiquette in their children. The dances were strictly chaperoned and were often restricted to only the senior class.

The formal dance we now call prom was first christened "the prom" in the 1890s. The word prom is a shortened form of promenade, meaning a march of the guests at the beginning of a ball or other formal event.

The first reference to prom in popular history comes from the journal of an Amherst College student who described his invitation and attendance at an early prom at Smith College in 1894. While the writer used the word prom to describe the dance, it was likely just a fancy name for a customary senior-class ball held at the college. Prom, while important in the college setting, would fail to take on iconic status until it emerged in high schools.

When high school proms began in the early 1900s, they were relatively simple affairs. Students would come in their Sunday best, but would not purchase new clothes for the event. The occasion called for tea, socializing, and dancing. During the 1920s and 1930s, American youth began to experience more freedom with the arrival of the car and other luxury items. The high school prom expanded into a yearly class banquet at which seniors arrived in party clothes and danced.

In the 1950s, as Americans enjoyed the luxury of the post-war economy, proms began to become elaborate, expensive events.

It became very important to come with the best-looking date, and being named to the prom court guaranteed instant social status. It was also during the 1950s that teenage girls began to pay more attention to their prom dresses and make special shopping trips for the perfect outfit. While the high school gym was adequate for sophomore dances, the settings of junior and seniors proms were gradually moved to grander locations.
In the 1980s, the prom began to take on larger-than-life stature, as several teen movies advertised it as the ultimate coming-of-age event in a young person's life. Competition for the prom court intensified greatly, with the title of prom queen becoming closely akin to true royalty.

Prom had become an important transition point in a teenager's life, the moment when fantasies and relationships either blossomed or disintegrated.

Today's proms have become expensive, all-night affairs, with after-prom activities often extending into the dawn of the next day. Stretch Hummers, fancy dresses, and glamorous ballrooms are now prom-night standards. Still, the prom has begun to relax a little in its dating requirements. While tradition still dictates that a boy ask a girl to the prom, more and more girls are beginning to take their prom destinies into their own hands and do the asking. Nontraditional couples are also becoming a more common sight at the prom. In practically every way, prom has moved beyond the days of strictly chaperoned, etiquette banquets to glamorous extravaganzas where nearly anything goes.

Shopping for a prom dress can be a little overwhelming, especially if you are new to the formal dress scene. Precisely for the prom ingénue like you, we have provided a list of common terms and definitions related to prom dresses, as well as brief flattery tips for each dress style. We guarantee they will help you shop more confidently and successfully.

Courtesy of the Pretty for Prom web site.
Empire Cut

An empire cut dress has a high waistline (generally beginning just beneath the bust) and a long, full skirt that flows straight from this waistline. The empire style camouflages a pear shape or thick waist and creates an illusion of height for short or petite figures.

Sheath

A sheath is a slim dress with little fabric detail that hugs curves and outlines the silhouette of your body. The sheath is perfect for sleeveless styles and tends to show off a well-toned body. Sheath dresses are especially beautiful and graceful on tall, thin figures.

A-line

An A-line gown has a form-fitted bodice that flares out from the natural waist to a full skirt. This type of gown features a seamless waist and may also be called a princess-cut gown. The gently flared style flatters most figure types and is especially useful for disguising large hips and thighs.

Tea-Length

A tea-length dress is a gown that is hemmed to end just at the shin. It has a fun, flirty appearance that is perfect for a slightly casual or more relaxed appearance at the prom. This dress style is ideal if your calves are your best feature or you have a tall, thin figure.

High-Low Gown

A high-low gown is hemmed long in the back (at the ankles or to the floor) and just above the knees in the front. This trendy, new style creates a unique, sexy prom dress appearance. It is perfect for showing off long legs and an hourglass figure.

Tulle Skirt / Bouffant Gown

A bouffant gown is characterized by a sheer, puffed-out skirt often made from stiffened rayon or silk. The skirt of this type of gown is similar in fabric construction (but not necessarily in length) to a ballerina tutu. The flared skirt is perfect for disguising a bottom-heavy figure.

Ball Gown

A ball gown is characterized by a very full skirt that begins at the natural waist and proceeds to floor length. The waist is seamed and may be styled in various shapes and designs. The ball gown style visually cuts the body in half and is ideal on average to tall figures.

The key to a standout prom hairstyle is to choose something different than your everyday hair. If you usually wear your hair up in a messy bun or ponytail, try wearing it down in a sleek, straight style or with curly waves. If you normally wear your hair down, now is your chance to try a fabulous up-do that will leave everyone staring at your beautiful neck and collarbone

Courtesy of the Pretty for Prom site

Looped Ponytail

This easy, glamorous style can have you ready and out the door in less than 30 minutes. First, pull your hair up into a high ponytail. If you have curly or wavy hair, straighten it with a flat iron first. Tame any stray hairs or frizz by spraying the top of your hair with a spray gel and gently combing it down flat. Once your hair is sleek and smooth, divide the ponytail into three sections. Roll each section under and pin each with a couple of bobby pins or hair clips in a different direction. Be creative with the directions; there are no rules on how this style should look. To finish your look, add a flower, decorative hair clip, or tiara.

French Twist

The French twist is a classic, easy style with fabulous flare. For a quick style, you can make the twist sleek and simple. To add uniqueness to the twist, you can finish the ends with loose curls. To form a twist, first flatten your hair with gel for a sleek look. You can part your hair on one side (great for masking a prominent widow's peak) or comb it all back. Take your hair at the nape of your neck and begin twisting. Once it is completely twisted, pull the twist up and attach it with clips. Spritz the entire twist with hair spray to keep it in place and tame any stray hairs. Finish the style by tucking the ends of the twist under or curling them with a small curling iron. For extra style, try tying a ribbon the same color as your dress around your head in front of the twist.

Soft Curls (For Short Hair)

A soft, curly style is a great way to wear your hair down if you have naturally straight tresses. First, set your hair in hot rollers to form the curls. While you are waiting for the rollers to heat, do your make-up to maximize your getting-ready time. Once the rollers have cooled, unroll your hair and brush it out. Flatten the front and hold it in place with some long bobby pins or hairclips. Tease the ends and the back up with a teasing comb and some hairspray. Don't worry about every strand of hair being perfect; the slightly disheveled look is sexy and stylish. Once you've finished teasing the ends, remove the clips at the front and finish the style with a flower or some rhinestone clips placed randomly throughout your hair.

Tousled Curls (For Long Hair)

If you have naturally curly hair, now is the time to take full advantage of it. A long, curly style is perfect for prom-night royalty and guaranteed to please you and your date. First, shampoo your hair and add a curl-enhancing conditioner or cream. While your hair is air-drying, scrunch it a little to encourage curls. If you don't have the time to let your hair dry naturally, use a blow dryer with a diffuser. Once your hair is dry, take small strands and curl them with a curling iron to control your curls and give them a styled look. Tousle the ringlets a little with your finger to break them into loose curls. Then, pull your hair back with a ribbon to match your dress and leave a few strands loose in the back. If you'd like a fuller look, cheat a little by adding a curly hairpiece underneath the gathered curls. A flower or rhinestone-studded clip is a great finishing touch to this style.

The day that you have been waiting for your entire high school career is here, prom! After your date arrives to pick you up (looking handsome in his Al's Formal Wear tuxedo) and hands you your beautiful corsage, you must tackle his boutonniere. While this may seem intimidating, it can be done easily in a few simple steps.

Before you pin it on, make sure that the flower is in the front with all of the greenery arranged behind it.

Pin the flower on your date's lapel or just outside the broadest part of the lapel on his left side, which is to your right.

Place the head of the pin under the lapel and push the point through the coat, into the boutonniere and back through the coat.

Make sure it hangs straight, and you are good to go!